Page 4 of 4 •

1, 2, 3, 4
Which Starter are you going to get?
Alright, English Info time!

Following their reveal in CoroCoro yesterday, The Pokémon Company has now announced the US names of the latest Pokémon. First, the evolution of Pancham, Goronda is to be called Pangoro.
The first squid Pokémon, Maika, will be known in English as Inkay, with its move Turn Over being called Topsy-Turvy. Its evolution, Karamanero, will be known as Malamar.
Next, the Pokémon Peroppafu will be known as Swirlix with its move Drain Kiss being called Draining Kiss and its ability, Sweet Veil, shall keep its name
Finally, the Pokémon Shushup will be known as Spritzee. The New Pokémon Page has been updated with various details about each Pokémon.
Next comes the details of Xerneas and Yveltal. Xerneas' ability is to keep its name of Fairy Aura, while its move Geo Control shall be called Geomancy. Yveltal's ability also keeps its Japanese name of Dark Aura while its move, Death Wing, shall be called Oblivion Wing. In addition to this, they have also confirmed various names of characters. The Professor, Purataanu, shall be known in English as Professor Sycamore. Team Flare will keep its Japanese name and finally, the two Gym Leaders, Shitoron and Zakuro shall be called Clemont & Grant respectively Clemont has a sister called Bonnie.
Miracle trade is known as Wonder Trade and allows you to receive Pokémon without knowing what you'll get. O-Powers keep their name. The Holo Caster is also used to communicate with other characters in the game. For the first time in the main Pokémon series, Pokémon X and Pokémon Y allow you to receive a Pokémon not yet registered in your Pokédex via GTS trade! Some O-Powers will temporarily increase a Pokémon's stats, while others make it easier to catch wild Pokémon or increase the Experience Points gained in battle.
You can also take photos in the game that can be shared and posted to the Pokémon Global Link. Milestones in your journey can also be shared on it, and can then be posted to social networks.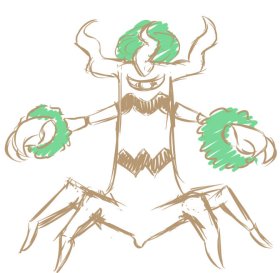 Details:
This Pokémon was revealed in a trailer for Pokémon X & Y which was included at the start of the movie Extremespeed Genesect: Mewtwo Awakens. It was shown in a Horde Battle
This picture is just a sketch of it done by zenity as photography was forbidden. As such, it is an approximation of the Pokémon and certain aspects may be different to the official imagery.
This made me giggle, the picture is funny.
Retired





Posts

: 1656


Join date

: 2012-09-08



MEGA EVOLUTION!
Spoiler:
First off are various "Mega" forms of various Pokémon, specifically MegaBlaziken, MegaAbsol, MegaMawile, MegaMewtwo, MegaLucario and MegaAmpharos. They're all called "Mega". MegaMawile is Steel/Fairy-type, as is normal Mawile now. MegaMawile has the ability Huge Power. MegaBlaziken has Speed Boost. MegaLucario has Adaptability. MegaAbsol has the ability Magic Bounce. MegaMewtwo has the ability Insomnia. MegaAmpharos is Electric/Dragon and has the ability Mold Breaker
They "evolve" through a process called "Mega Evolution"
Pre-evolution of Gogoat is called Meekuru (メェークル). It is a Grass-type. It is 0.9m and 31.0kg
We have an Electric/Fairy-type called Dedenne (デデンネ). It is 0.2m and 2.2kg. It is the Antenna Pokémon and has the abilities Pick Up or the new ability Cheek Pouches
The Rabbit is a Normal-type called Horubii (ホルビー). It is 0.4m and 5.0kg. It is the Digging Pokémon and also has the abilities Pick Up or Cheek Pouches
The Super Training facility is also showcased
A new character is shown called Koruni. She is a Gym Leader and holds the key to understanding Mega Evolutions
16:18: First event for Pokémon X & Y. Torchic to be distributed from October 12th to January 15th. Hold a new item called Blaziken Knight (possibly Blazikenite) and has its Hidden Ability of Speed Boost. Can eventually become MegaBlaziken. It's also mentioned to utilise something called a Mega Stone
Following their reveal in CoroCoro yesterday, The Pokémon Company has now announced the US names of the latest Pokémon and features. First, the Mega Evolutions; MegaMewtwo, MegaBlaziken, MegaAmpharos, MegaMawile, MegaLucario and MegaAbsol retain their Japanese names. Lucario needs an item called Lucarionite
First, the rabbit Pokémon Horubii is to be called Bunnelby . Its new special ability, Cheek Pouches, has the name of Cheek Pouch. If a Pokémon with this Ability eats a Berry during battle, it will not only reap the benefit from the Berry, but the Pokémon will also be able to regain HP.
Next, the Electric/Fairy-type Pokémon Dedenne will be known as Dedenne . It Nuzzle, which looks cute as the user nuzzles up to a target with its cheeks fully charged, but it's quite dangerous! Nuzzle will do damage while paralyzing the opponent.
Finally, the pre-evolution of Gogoat, Meekuru will be known as Skiddo. It is rideable in the field
Next, the Gym Leader Koruni will be known in English as Korrina. She is the Gym Leader in Shalour City where the Tower of Mastery is
The Torchic distribution is also confirmed for North America and Europe
Super Training or S.T. is being introduced in Pokémon X and Pokémon Y, allowing players to help their Pokémon grow stronger when they're not in battle. On the Touch Screen of the Nintendo 3DS system, players can have their Pokémon participate in Super Training, activities that will increase a Pokémon's Effort Values, the underlying values that define its HP, Attack, Defense, Sp. Atk, Sp. Def, and Speed stats.
One Super Training activity involves having Pokémon train by facing huge Pokémon-shaped Balloon Bots in a virtual space, with both sides trying to shoot balls into the opponent's goal. Using the Circle Pad and Touch Screen to avoid shots from the Balloon Bots while landing their own in the goal, players will enjoy this action-packed feature while increasing their Pokémon's Effort Values to help them become stronger for battle.
For a more casual way to help Pokémon strengthen their Effort Values, Core Training lets players set up training bags, earned by completing Super-Training Regimens, for Pokémon in their party to use. Pokémon will work on Core Training by themselves, raising their stats on their own. By tapping on the Touch Screen during a Core Training session, players can help their Pokémon increase their Effort Values, too. Players will be able to see how their Pokémon are doing at their Core Training at any time from the main Super Training screen.
EVs can now be tracked by an Effort o Meter which shows the progress of the Pokémon and the amount it can still have

With the official Japanese site update, a small note came out regarding further clarification on the Mega Evolutions. Within this site, it details that with Mega Evolutions, you can only have one Mega Evolution Pokémon in battle. It's not known whether it's talking about all of the battle, or just within your team. This is presumably to allow for a specific balance in the Pokémon. It also clarifies that the Pokémon will revert after the battle has ended, not within it itself when the battle finishes. We're still not 100% on the specifics of this new process, but we'll keep you updated as more information comes
Edit @ 17:14: During the VGC Opening Ceremony, Junichi Masuda revealed a new Mega Pokémon, Mega Kangaskhan. It has the ability Parental Bond that allows its attacks to hit twice in one turn.
I want to see megakanga. :I
Retired





Posts

: 1656


Join date

: 2012-09-08



Apparently....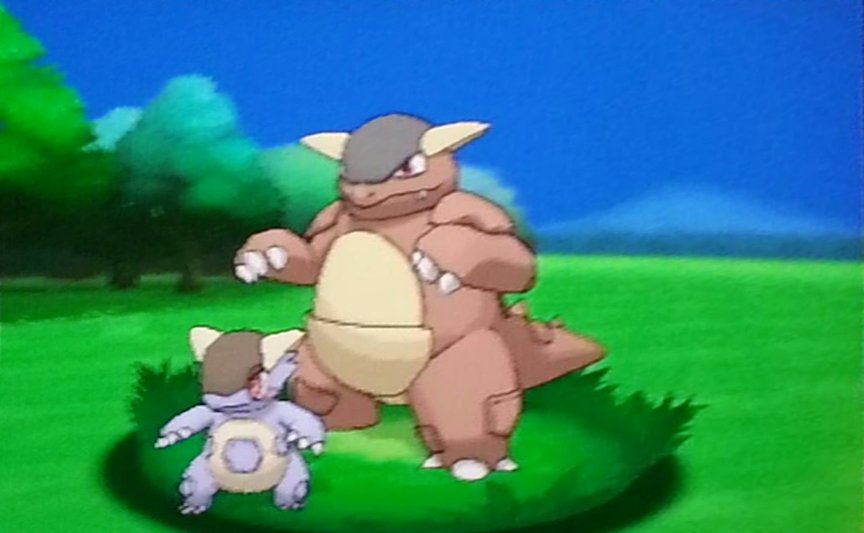 The kid is OUT of the pouch and ready to kick some ***
Page 4 of 4 •

1, 2, 3, 4

Similar topics
---
Permissions in this forum:
You
cannot
reply to topics in this forum